International Cyber Expo 2023 Triumphs in its Second Year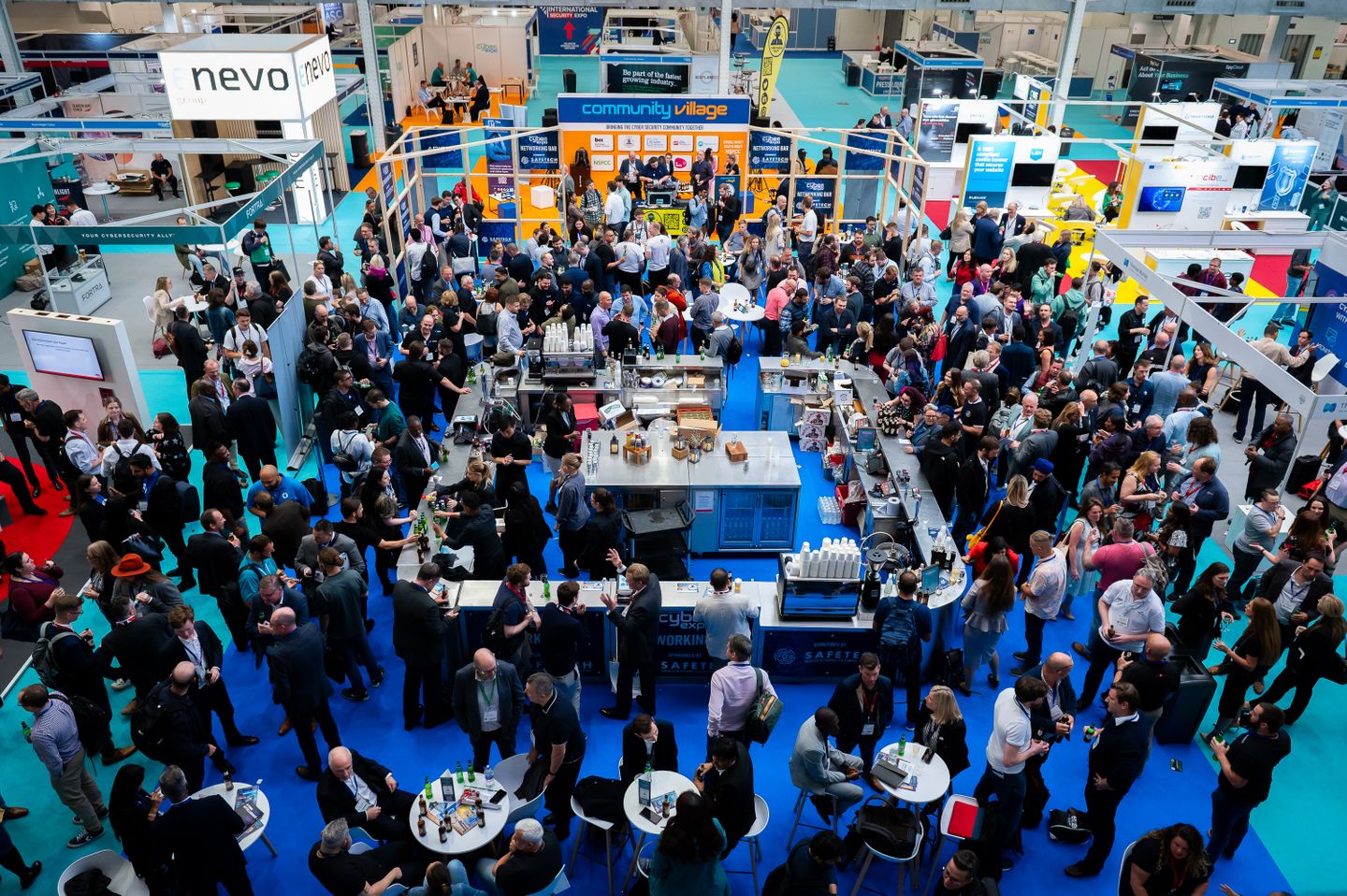 London, UK 09 October 2023 - The triumphant return of Nineteen Group's International Cyber Expo, firmly solidifies its position as a must-attend fixture in the cybersecurity industry's annual calendar. With resounding support from esteemed government organisations, distinguished experts, and leading industry vendors, this event stands as an indispensable show for professionals and enthusiasts alike.
6,475 visitors, from over 80 countries, descended on Olympia London for the acclaimed annual cybersecurity event, seeing an impressive 35% growth in its second year. With 159 exhibitors demonstrating their cutting-edge solutions and over 60 talks, demos, presentations and CISO roundtable discussions, this year's expo once again emerged as an unparalleled gathering of industry leaders, experts, and enthusiasts.
"This year's International Cyber Expo lived up to all expectations and fostered a great sense of community in the cyber security industry. It is events like this that allow industry professionals to meet and share best practice and talk about key themes that come up. Generative AI and working together more closely as an industry were key themes, as well as finding a role in cyber security and the cyber skills gap. It is clear more needs to be done in terms of securing generative AI and discussions around this important topic were heard on the Global Cyber Summit Stage; I can foresee this being a hot topic in cyber security moving forward," said Lisa Ventura MBE, Founder of Cyber Security Unity and Advisory Council Member, International Cyber Expo.
"Collaboration is so important in order to go some small way to combatting the growing cyber threats and stopping siloed working in the industry, and events like the International Cyber Expo go a long way towards this. I am already looking forward to next year's event," Ventura concluded.
Highlights of International Cyber Expo 2023 included:
UK's Minister of State for Security, Tom Tugendhat
Speaking at International Security Expo 2023, UK's Minister of State for Security, Tom Tugendhat took time out of his schedule to visit International Cyber Expo exhibitors to discuss the technology advancements in cybersecurity in the last 12 months cementing the importance of the industry in the UK's security defences. He also delivered a speech on 26 September to International Security Expo that spoke of the significant moments in the security industry that have occurred over the last year.
A key focus of this year's Global Cyber Summit, sponsored by Infoblox, Sonatype, Google Cloud, Opentext and Squalify was on the cybersecurity ramifications of geopolitical tensions, with particular attention given to discussions regarding Ukraine and Russia. Noteworthy speakers were Oksana Kharchenko, a Business Development Specialist at YouControl, who on the first day shed light on the Ukrainian perspective and strategies for managing sanction risks through automated inspections.
In the realm of cyber espionage, gaining insight into the operational methods of Advanced Persistent Threats (APTs) is essential for safeguarding businesses. Andrew Hural, the Director of Managed Detection and Response (MDR) at Ukrainian company, UnderDefense, presented a comprehensive analysis, taking the audience on a journey spanning 500 days of Russian cyber activities. He revealed crucial perspectives on the WHO, WHY, WHAT, WHERE, and WHEN of their assaults, illuminating their core goals, preferred targets, and the techniques utilised to breach compromised systems. Andrew also imparted valuable takeaways from their achievements and missteps, unravelling the complex web of APT behaviours and tactics that resonate throughout the defence ecosystem of every business.
'Grab the Mic: Women in Cyber'
This inaugural event was a great success thanks to the efforts of host Eleanor Dallaway, Founder of Assured Intelligence and former Editor of Infosecurity Magazine. The event kicked off with Sarah Barclay, Head of Cyber Security Operations, Sodexo UK&I and Steve Moran, CISO, Sodexo talking about how 'It Takes Two to Tango (If You Want to Tango Exceptionally Well)'. Lisa Forte, Co-Founder, Red Goat Cyber Security, then took to the stage to share her experience of climbing high altitude peaks and adventures around Peru and the Amazon, and how she overcame her fears, work/life balance challenges, and adverse weather conditions including some frostbite to tick off a bucket-list challenge of a lifetime.
The event closed with a session looking at "How to Land The Job of Your Dreams" with an inspiring panel of women in cyber that included Anne Woodley, Senior Security Specialist, Microsoft, Natasha Harley, Cyber Recruitment Specialist, Cyber Talent Partners, Palvi Sharma, CAPSLOCK trainee, Shelley Langan-Newton, CEO SQR Group and Sunaina Ayatn, Cyber Security Consultant, AIRBUS.
"The launch of Grab the Mic: Women in Cyber could not have gone any better. A huge crowd, inspirational speakers, an engaged and refreshingly candid audience, and a true feeling of community. Never have I received such unanimously glowing feedback. Friendships were formed, I know of at least two job offers that have been made, and everybody left feeling more positive, more united, and more motivated. I cannot wait for the next chapter of Grab the Mic," comments Eleanor.
Alongside supporters, The Zensory and Jamf, the Cyber Wellbeing Corner helped to bring a sense of calm to the busy show floor. The corner offered a neuro inclusive, safe space for cybersecurity professionals to take time out.
"Behind every cybersecurity professional stands an unsung heroe, bearing immense responsibility and stress. They're the silent guardians of our digital world. It's crucial to recognize that this demanding role takes a toll, with high stress levels and a constant feeling of being plugged in. Let's not forget, over half of us in cybersecurity have grappled with emotions like depression and anxiety due to the pressures of our work. Moreover, for the 20% of us who are neurodiverse, exhibitions can be overwhelming. It's time to champion inclusivity and well-being in our industry," comments Jasmine Eskenzi, Founder & CEO of The Zensory.
Cyber Impact - Exploring the Ever-Evolving Cyber Landscape
Hosted by esteemed journalist and presenter Sharon Thomas, ITN Business launched its programme 'The Cyber Impact' that delves into the dynamic landscape of cyber threats, and showcasing the cutting-edge solutions to counteract them. Offering invaluable insights, this programme serves as an essential resource for understanding the intricacies of cybersecurity.
It also highlights the work being done by the UK Cyber Security Council in supporting the UK Government's National Cyber Security Strategy to make the UK the safest place to live and work online. The programme is accessible for viewing on the International Cyber Expo website at https://www.internationalcyberexpo.com/the-cyber-impact.
Visitors experienced a hands-on journey into the realm of cybersecurity on the Cyber Griffin stand using everybody's favourite interlocking building blocks, Lego. Attendees were able to engage in the award-winning Table Top Exercise, crafted to simulate real-world scenarios and illuminate the critical decisions needed to shield businesses from modern threats. From grappling with hacking and malware attacks to addressing physical security challenges, the immersive activity comprehensively tested team's responses to cyber incidents. Certified by the National Cyber Security Centre (NCSC), the exercise is tailored for both hands-on and social learners. Additionally, Cyber Griffin has now digitised the experience for businesses with remote workforces, ensuring they stay at the forefront of the cybersecurity landscape.
Created by the Metropolitan Police's Cyber Protect Team, the Cyber Escape Room (Staff Awareness Exercise) merges interactive and engaging cyber-security initiatives tailored to convey critical messages to staff. Through a series of problem-solving exercises, visitors were immersed in a learning experience aimed at fostering vigilant cyber behaviour and fortifying defences against potential cyber threats. This immersive programme comprehensively addresses topics including phishing, data protection, and password security.
In collaboration with industry leaders including Searchlight Cyber, Domain Tools, Squalify, Threatlocker, Think Cyber, Tresorit, and Factory Internet, CrisisCast unveiled a captivating behind-the-scenes journey of the intricate workings of a live cyber attack. Presented on a revolving stage, each demonstration delved into the boardroom's response when confronted with an attack, highlighting the invaluable insights businesses can gain to fortify their defences, identify imminent threats, and extract critical intelligence.
Connecting International Audiences
The International Delegations Programme, backed by UK Defence & Security Exports, facilitated seamless navigation for international visitors in search of security and cyber solutions for their organisations. Tailored tours and itineraries were created to ensure they make the most out of the valuable content and exhibitors tailored to their specific business requirements.
In addition, the complimentary Connect+ Live meeting service provided International Cyber Expo attendees with the opportunity to engage with pre-selected, qualified buyers or solution providers through scheduled face-to-face introductions. This feature allowed attendees to address their specific needs by connecting with leading suppliers over the course of both show days.
Once again, the Tech Hub Stage was a fantastic opportunity for visitors to discover new products and services, plus get to hear about real-life applications and case studies of game-changing solutions. 26 vendors showcased their expertise covering topics such as improving cyber-resilience, Zero Trust and API attacks.
CybSafe's Director of Science and Research, Dr Jason Nurse offered up insights from the company's recent research in partnership with National Cybersecurity Alliance that examined cybersecurity attitudes and behaviours of the general public, shedding light on one of the most important aspects of cyber risk - the human factor.
The Tech Hub stage also showcased Scotland's most innovative cybersecurity companies, with Safeshark, Cybershell Solutions, LastingAsset, Lupovis, HighGround.io and Cybernitics all demoing their products that provide next-gen solutions to tackle everything from hacking threats to data encryption.
The showfloor featured a diverse array of pavilions representing esteemed organisations including IASME Consortium, CREST, TechUK & ADS, INCIBE (The Spanish National Cybersecurity Institute), ScotlandIS, and The Department for Science, Innovation & Technology.
These pavilions offered exclusive spaces for their members to convene and highlight the vibrant cybersecurity communities they actively contribute to and support.
The Government Zone proved a success once again, garnering support from the UK Defence and Security Exports (UKDSE), UK Cyber Council, Department for Science, Innovation and Technology (DSIT), National Cyber Resilience Centre Group, NCSC For Startups, City of London Police - Cyber Griffin, Welsh Government, National Crime Agency (NCA), Plexal and the Metropolitan Police. Serving as a focal point for visitors, the Government Zone offered a unique opportunity to network and gain insights into the latest projects and future plans of the UK. It provided direct access to the highest-ranking and most influential figures in various UK Government departments, organisations, and agencies.
"International Cyber Expo's triumph this year firmly establishes itself in the cyber industry events calendar. Uniting the industry is imperative to safeguard businesses and the wider public against present and future cyber threats. We're excited to be already planning next year's event which I am sure will have even bolder and more engaging content than this year."
"I've had, yet again, an exceptional experience at this year's International Cyber Expo. It's been a pleasure to be a part of it," shares Ciaran Martin CB, Professor at Oxford University and Chair of the International Cyber Expo's Advisory Council. "2023's event witnessed an even larger turnout, heightened enthusiasm, and an unexpectedly substantial international presence. What truly sets this event apart is the seamless collaboration between the cybersecurity industry, government, and academia. There's been an electrifying energy - my heartfelt congratulations to everyone involved and my sincere thanks to all who participated."
Dates for next year's event will be 24-25 September 2024. To register your interest in attending, visit: https://www.internationalcyberexpo.com/register-interest-2024
If you're interested in speaking opportunities for 2024's Global Cyber Summit and Tech Hub Stage, please email: info@internationalcyberexpo.com
For any International Cyber Expo 2024 exhibitor enquiries, please visit: https://www.internationalcyberexpo.com/exhibition-enquiry-2024
< < END > >
About International Cyber Expo
Driven by popular demand, International Cyber Expo has emerged as the cybersecurity event where business, innovation and education converge. Over two days, industry veterans, newcomers, technical experts, executives and investors are invited to address the issues of tomorrow's interconnected world in the heart of London.
The Expo endeavours to be the hub of global and inclusive collaboration. It is an event for the community, by the community, with CISO roundtables, informative sessions by experts in the field, including immersive demonstrations of the latest cutting-edge technologies. Its agenda is shaped by a diverse and esteemed Advisory Council chaired by Professor Ciaran Martin CB (former CEO of the NCSC) and made up of credible government, industry and academic stakeholders.
For more information visit:
https://www.internationalcyberexpo.com/