SECURITY OPERATIONS CENTRE AS A SERVICE (SOCaaS)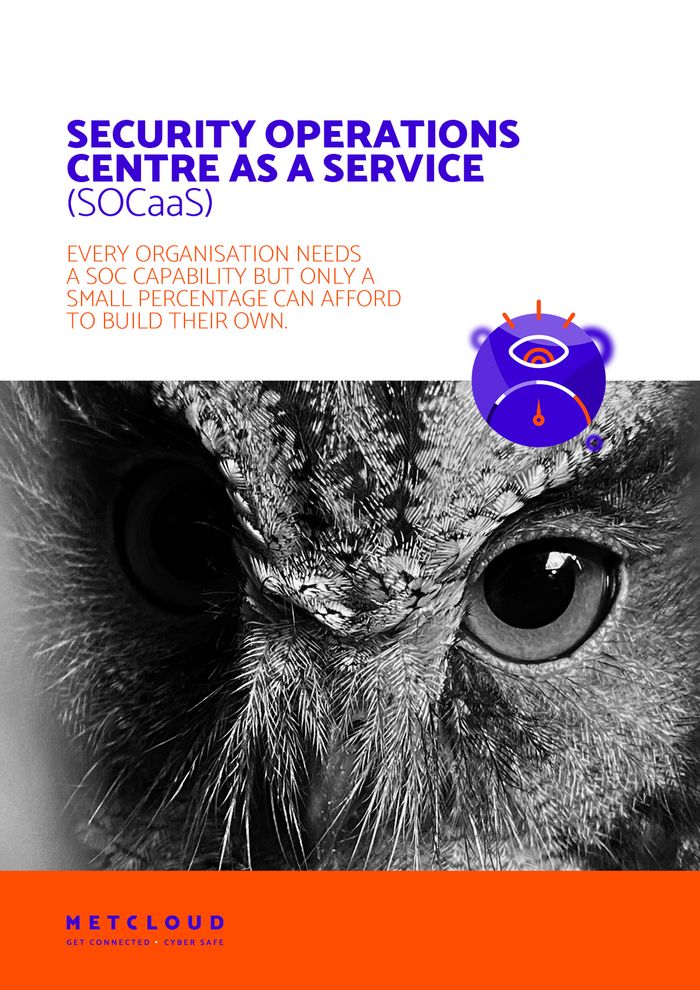 WHAT IS SOCaaS?
Security Operations Centre (SOC) is a specialised function in IT responsible for managing and monitoring computing activities, logs, devices and networks to detect, prevent and respond to vulnerabilities and impending cyber threats.
ROBUST CYBERSECURITY STARTS WITH A STRONG PARTNERSHIP
METCLOUD delivers specialised cybersecurity expertise, technology and infrastructure to support 24/7 surveillance to protect organisations from potential threats.
Most organisations cannot afford a dedicated security operations centre but it is essential that they have access to this security capability.
SOCaaS with METCLOUD works as an extension to your IT team, taking on the overhead investment of skilled resources, processes and infrastructure maintenance.
PEACE OF MIND WITH BEST IN CLASS TECHNOLOGY & SPECIALISED EXPERTS
Through swift threat detection, response and remediation, METCLOUD SOCaaS provides businesses with a comprehensive understanding of their cyber threat landscape while mitigating the risk of a cyber incident.
With METCLOUD SOCaaS, businesses can expect:
Close monitoring of systems for threats and vulnerabilities
In the event that a threat or vulnerability has been detected, our security experts will investigate and triage the issue based on the threat level.
Security observations, highlight policy violations and recommend improvements in accordance with your environment.
Regular advisory support

BENEFITS
24/7 SOC
Highly qualified and experienced SOC analysts
Threat Intelligence - Managed Detection & Response (MDR)
SIEM / Log management with 12-month log retention for compliance
Compliance reporting to meet industry-specific regulations
Regular policy updates