28 Jun 2022
Thomas Murray Risk Intelligence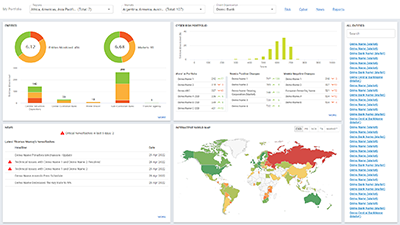 Meet compliance requirements to monitor and track third parties.
The Risk Intelligence overview dashboard allows you to monitor your network in real-time. View all your assessed entities, risk view, cyber scores, the latest news, and diligence profiles in one.
Maintain information in structured reports in a fully controlled and audited environment.
Provide group-wide visibility through a centralised data repository.
Pull in secure API feeds, facilitating a seamless flow of data into the application without manual requirements.
Evaluate based on peer-to-peer comparisons or assign your own categories of third-parties.
---
Searching for a tool that will enable you to monitor other types of organisations?
Our integrated technology suite can be used by your team to carry out comprehensive assessments of any third-party.